Right from the start, I have to tell you, not that the cake is creamy, you could already find out from the title, but that we prepared three gift packages?
Need to write in the comment, sign up for free, who would you make this creamy cake with Medela strudel, which are otherwise Limited edition?
We read your comments until 02/18/2020 . and then choose the 3 best?
Edit: The jury decided that the winners were Ana Lukic, Sanja Mihailovic and Ana Nikolic, and since you wrote in the comments that you plan to make this birthday cake closer, we expect pictures of your cakes. ? Send your information to minjina_kuhinjica@yahoo.co.uk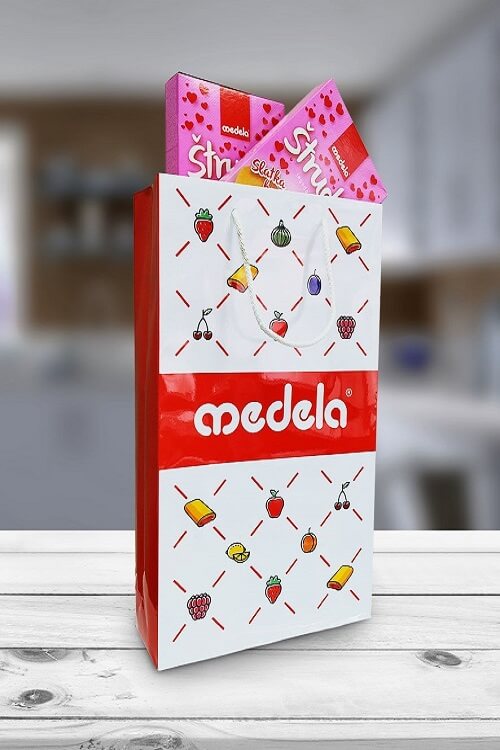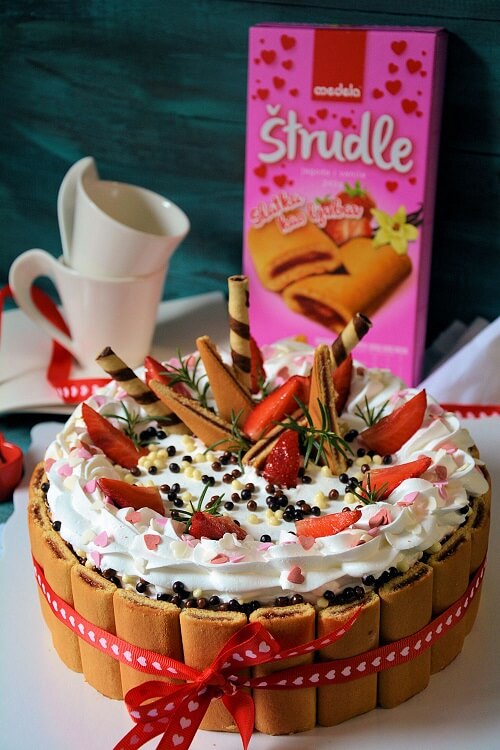 Required:
I part:
200 g ground biscuits
65 g powdered sugar
80 g Vital margarine
300 ml thick yogurt
Custard:
300 ml cold milk
150 g whipped cream taste sweet cream
150 g sweet sour cream
250 g mascarpone cheese
1 gelatin
200 g strawberries
100 g chocolate
Decoration:
whipped cream
edible beads
edible hearts
strawberries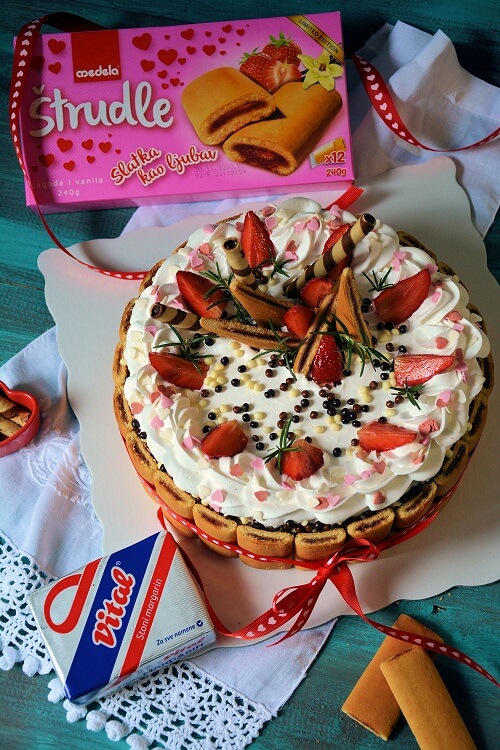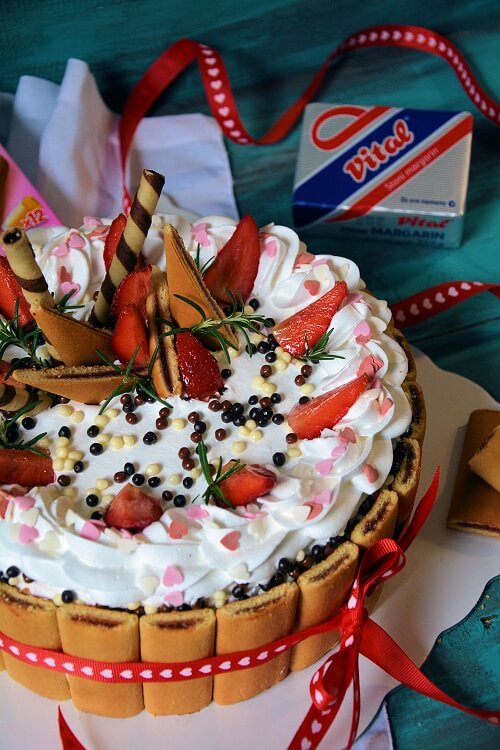 Chop Medela strudel and place in a bowl. Add the ground biscuits and powdered sugar, then stir. Melt Vital margarine, chill a little, then pour over. Stir, then add the yogurt and continue stirring, but make sure your strudel pieces remain whole. Transfer to a 22 cm diameter mold. Refrigerate while preparing the fil.
Custard: Pour gelatin over with 50 ml of cold water. Allow 10 minutes to swell. Pour milk and whipped cream into the pan. Whisk with a mixer and add the sour cream and continue to stir. Add mascarpone cheese and stir with a spatula. Melt the swollen gelatin, the fastest and easiest if you do it in the microwave. Add a spoonful of the fillets to the melted gelatin and stir, then pour everything into the fillets. Stir and divide into two equal parts. In the first part, add the strawberries that you have chopped into a slurry with a stick mixer or blender. Apply the custard over the first part Put the cake in the fridge or freezer for 10 minutes.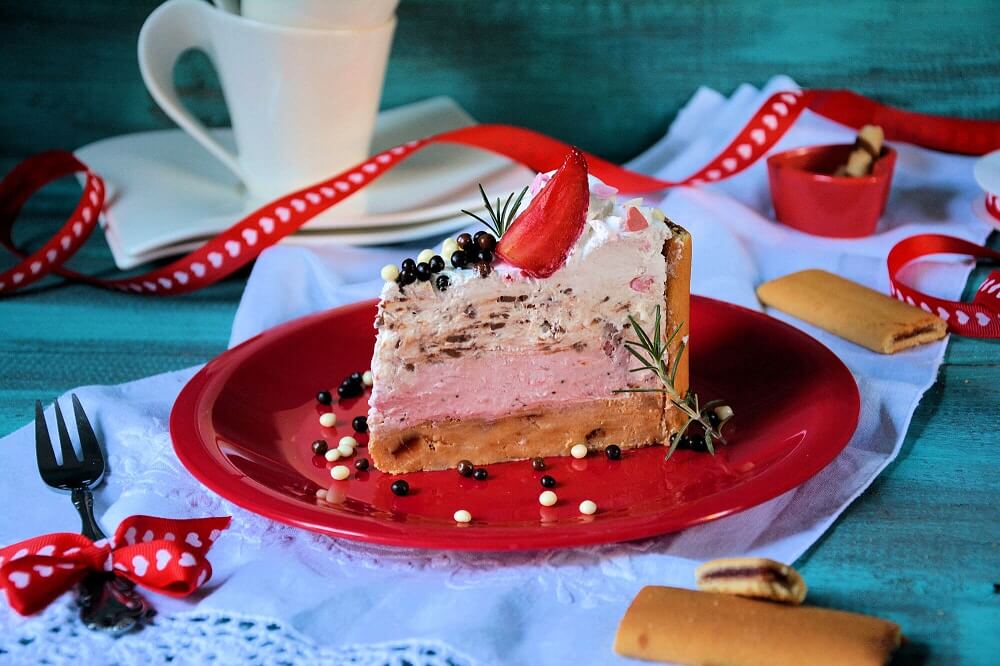 Add the coarsely grated chocolate to the second part. Stir and apply over the strawberry custard. Put the cake back in the fridge and let cool for at least 3-4 hours before removing the hoop and continuing decorating.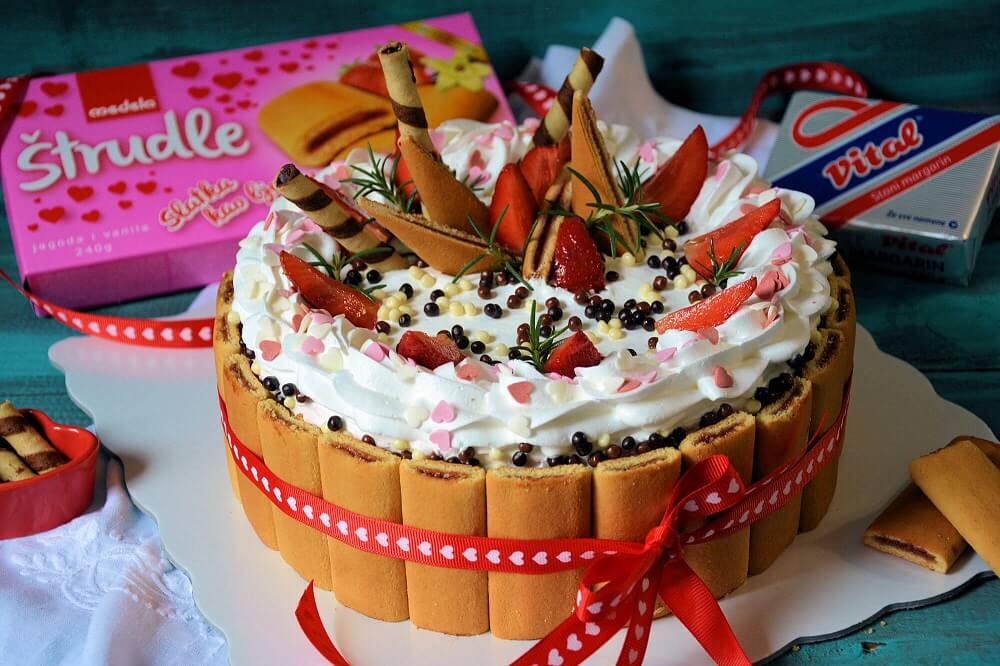 Decorating: Lay Medela strudel, to each other (22 pcs). Decorate the whipped cream as shown in the video or as you wish. Add fresh strawberries, some diagonally sliced ​​strudel, edible beads, hearts, chocolates, etc.